Pastor, preacher, scholar, cultural critic, public theologian, social justice activist,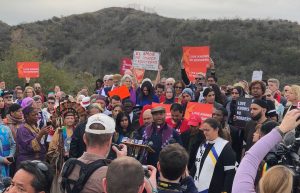 husband and father are just a few words that describe the life, work and ministry of our Senior Pastor and Teacher, the Reverend Doctor J. Lee Hill, Jr., who believes in exploring ministry at the intersection of the spiritual and social, the secular and sacred.
Dr. Hill has been involved in ministry for more than twenty years. He is a licensed and ordained Baptist minister with full standing in both the Alliance of Baptists and the United Church of Christ. Since 1999 he has served in a variety of ministerial capacities in Virginia, North Carolina, the City of New York, and Southern California. Formerly serving the prestigious Riverside Church in the City of New York, he was mentored by the Rev. Dr. James Alexander Forbes Jr., before moving to San Diego to serve as the Senior Pastor of Christian Fellowship Congregational Church (UCC) in 2010.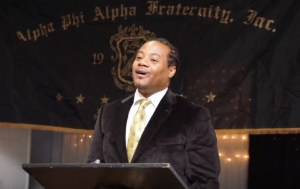 Believing in the importance of preparation before proclamation, he attended Florida A&M University and received his Bachelor of Arts degree in Integrative Studies from the George Mason University through the School for Integrative Studies (formerly, New Century College).  As an undergraduate student he toured with the FAMU Gospel Choir following the 1996 album release, was in Army ROTC and pledged the collegiate chapter of the National Association Pershing Rifles (C-16), and the Iota Alpha chapter of Alpha Phi Alpha Fraternity at George Mason University.
After working for the Department of Labor in the National Offie of Job Corps, he went on to earned the Master of Divinity degree from Wake Forest University where he was an Egbert L. Davis and Robert Forest Smith II scholar.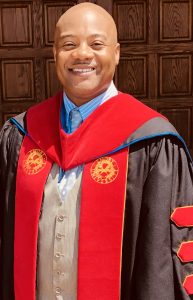 Discerning a call to urban ministry he received the Dean and Dorothy Kaufman Urban Ministry Internship Award to study at New York Theological and Union Theological Seminary and serve in ministry at Metro Baptist Church. 
Dr. Hill earned his doctorate from Emory University in the field of Biblical Interpretation & Proclamation, specifically investigating the Narrative Lectionary's impact on biblical literacy, spiritual development and social actions within the Black Church; the title of his doctoral dissertation was "A Black Narrative Pulpit:  The Narrative Lectionary as a tool for Christian Transformation."  Dr. Hill's other academic research interests include 21st century African-American worship and liturgy and emerging models of Narrative Leadership for the church and the world.
Additionally, Dr. Hill earned a diploma in biblical studies from the Howard University School of Divinity, a certificate in ministry from the Institute for Youth Ministry at Princeton Theological Seminary, several units of Clinical Pastoral Education (ACPE), and a certificate from the center for Compassion and Altruism Research and Education at the Stanford School of Medicine.  In 2019 he was inducted as a fellow of the College of Pastoral Leadership at Morehouse College.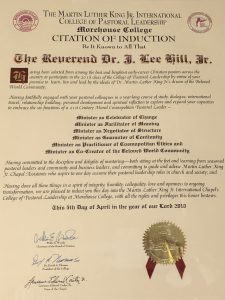 Dr. Hill has served the academy as an adjunct instructor, guest lecturer and guest preacher, and continues to publish articles, sermons, and interpretive commentary series in various professional journals.
Dr. Hill is active in several campaigns that seek to uplift those who are marginalized and oppressed in our world by sharing the Good News of God's transformative love for all.  Currently, he serves as the Interfaith Justice Coordinator and Convenor of the Interfaith Justice Coalition of Alliance San Diego, a collective of diverse religious leaders and allies who feel called by their respective religious traditions to work for justice, and collaborates with others justice oriented groups around the country.  He is a member of the New Generation Leadership Initiative—an elite pastoral development program of the Pensions Boards of the United Church of Christ for early career pastoral leaders. 
Civically Dr. Hill is active in the San Diego community as a lifetime member of the NAACP, a Prince Hall Mason of the Most Worshipful Prince Hall Grand Lodge of California, York Rite, and Shrine.  For more than decade he has been a Life-Member of Alpha Phi Alpha Fraternity, Inc., and humbly serves as the Chaplain of the Zeta Sigma Lambda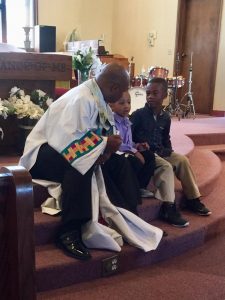 chapter of the fraternity.
Throughout his professional vocational ministry, Dr. Hill has stood as a voice for the voiceless, equipping and empowering believers to know and trust in the transformational power of a just God at work in their lives.  In acclamation of this he was named by Ebony Magazine among "the Ebony Power 100" as an emerging leader in the field of religion in 2010, and has received numerous awards and countless citations.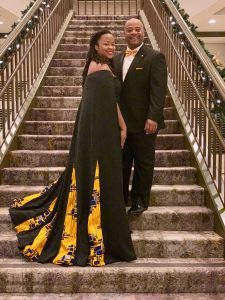 Dr. Hill is a native of the Commonwealth of Virginia and the youngest born to the union of two Baptist Deacons, Jimmie and Shelley K. M. Hill.  He is married to the former Christie N. Love of San Diego who in addition to being an outstanding wife and mother, is the Deputy Director of Policy for the San Diego ACLU.  Mrs. Hill is a graduate of UC Berkeley, and Columbia Law and together they share their home and lives with their young sons.
In recent years, Dr. Hill's leadership has been honored with numerous awards including:
2019 Rise San Diego Fellow (University of San Diego, School of Leadership and Educational Sciences)
2018 Morehouse College Martin Luther King, Jr. International Chapel, College of Pastoral Leadership Fellow
2017 Brother of the Year, Zeta Sigma Lambda Chapter of Alpha Phi Alpha Fraternity, Inc.
2017 Pro Fide et Humanitate Award for Distinguished Public Ministry, Wake Forest University Divinity School
2017 Celebration of Fathers Honoree, Phi Omicron Chapter of Omega Psi Phi Fraternity, Inc
2017 Good Shepherd Award, San Diego Voice and Viewpoint Newspaper
2016 Humani

tarian of the Year Award, National Association of Real Estate Brokers

2017 Man of the Year, Black American Political Association of California(BAPAC)

2013 Next Generation Leadership Initiative, The Pension Boards UCC
2012 Fellow of the 

Chautauqua Clergy Developm

ent Program
2010 Ebony Magazine, Power 100 Emerging Leader in the Field of Religion
2010 Distinguished Black Alumni, George Mason University
2009 Distinguished Alumni, New Century College-George Mason University
2005 

John Thomas and Dorothy Porter Award in Vocational Formation and Community Ministry, Wake Forest University Divinity School
Contact
Dr. Hill can be reached by email or on social media at Twitter.