The Music Ministry of Christian Fellowship serves the church and is made up of committed and dedicated singers and instrumentalists to lead God's people in praise and worship. Our talented musicians seek to discern the flow of the Holy Spirit in each worship service and follow the Spirit's lead both musically and spiritually in unity.
---
Sanctuary Choir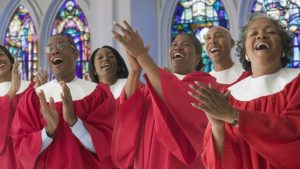 Sanctuary Choir is a group of talented, non-auditioned singers who rehearse and sing weekly in worship through a wide repertoire of sacred music, this volunteer choir leads worship each Sunday, except on the 4th Sunday of the month.  Rehearsals are weekly and members and friends are joyously welcomed to join the choir.
Children's Choir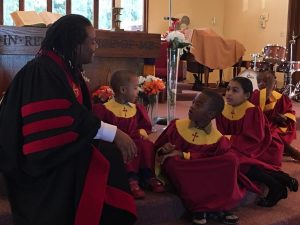 Consist of Children, Youth and Adult Leaders who are dedicated to helping young children know God through joyful, spirited music.  The Children's Choir leads worship on the 4th Sunday of every month.  All children and youth are welcome to join.
---
Handbell Choir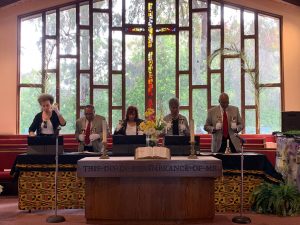 Christian Fellowship has a 2 octave set of Malmark English handbells which were donated by members of the congregation in 2018.  Our handbell ensemble practices weekly from 3:30PM to 4:30PM every Sunday afternoon.  We are always interested in having new friends to join us in ringing God's praises.  It is not necessary to be able to read music, but a good sense of rhythm is helpful, along with willingness to commit to regular practices.
---
Jazz Vespers (Evening Worship)

Jazz emerges as a truly American church music.  It is the balm that has the power to inspire, heal and transform.  It is the  hope of reconciliation and reminds us who we are, where we have come from and us to dream and create new spaces to live as our best selves. Jazz is the music of hope and liberation.  San Diego Jazz Vespers at Christian Fellowship is a creative collaboration between jazz our artists and liturgists–creating a fusion worship experience that is always unique different and expands the church's liturgical traditions.  Our Jazz Vespers is a unique ecumenical experience of worship–come and experience the power of God's Spirit in worship with us at Christian Fellowship.  EVERY SUNDAY NIGHT at 5PM